About Middlesex County Painting Contractor - LeBlanc Painting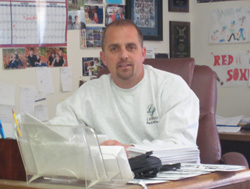 At LeBlanc Painting you can always expect extraordinary communication and quality service. We work with you from beginning to end. Careful attention is paid to every detail, including daily site cleanup.
Our Middlesex County painters strive to give high-quality painting work. Your job is carefully evaluated for special conditions and requirements before your estimate is prepared. Our proven painting system incorporates extensive surface preparation, the best products and protection of surrounding areas. The skilled team of trained craftsmen assigned to your home will work together until the job is completed to your satisfaction.
At LeBlanc Painting we are conscientious painting professionals. All LeBlanc Painting Company employees wear our name proudly. They will provide excellent results and courteous customer service. You'll have a clean, quiet, job-site.
Satisfaction Guaranteed
Your satisfaction is always guaranteed when you choose LeBlanc Painting. It protects your investment, it affects your home's appearance, and when done properly, it will be with you a long time. That's why you get our Total Satisfaction Guarantee. We don't cut corners. We provide excellent long-term value by hiring the best people and providing the best paint jobs. You'll have confidence when the job is started and complete satisfaction when it's done.
Your questions will be answered completely. You'll participate in the completion inspection. Any concerns or final touchups will be handled promptly, before we leave the job. We will perform a follow-up call and appreciate your feedback. We will go all out to add your name to our long list of satisfied customers!
We Provide the Following Services in Middlesex County
If you are looking for a Middlesex County painting expert then please call (978) 742-9876 or complete our online request form.